Behind the Music featuring Marvin Fermin
Unless you have been living under a rock, or you are simply new to the soca scene, the undisputed King of soca, Machel Montano, needs no introduction. Machel has one of the longest careers of any of his contemporary soca superstars. He has hosted multiple sold out shows all around the world. There is never a dull moment if you are part of the Monk Music family.
Unsurprisingly, there are many moving parts when it comes to creating the Machel Montano experience (management, production, distribution, publishing, branding, legal management) and to us looking in, it all comes together like magic. Needless to say, the team that works hard behind the scenes knows all too well about what it takes to make this magic happen every year. And very few people know better than Machel's point person, the renaissance man himself, the hand of the king and this week's featured Behind the Music individual, Marvin Fermin.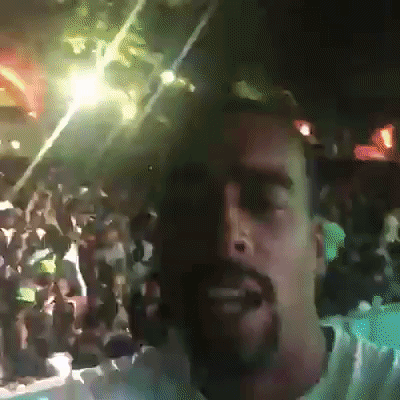 Radial: Marvin, You know the routine. Who is Marvin Fermin and what do you do?
Marvin:  I am the person who is sought out by others to get things done. As the firstborn of 4, I grew up with my mother and grandparents. This upbringing gave me those good "ole school" values and morals that people nowadays look for. I "became man" when I left my mother's house at 17 and had to go out there and do something. I explored a range of jobs from being a technician installing cables to delivering materials for a hardware store and I still carry that determination for going further.
Fast forward 13 years, I met up with Machel and having acquired a vast amount of professionalism and knowledge in the industry, he asked me to join him on his journey. As with any employer, he did his background checks and found out that we are related in some way, our families are joined somewhere around 3 generations before us. So the connection now was more sealed and comforting. Add another 10 years and I am now totally in charge of everything surrounding him. Trusted as much, I basically can make the earth move under me if the situation calls for it.
Radial: You probably have some really incredible stories brother! What is one of the craziest thing that happened while on the job?
Marvin: I can name five craziest things but I'll give you one.
[Editor's note: We should really be more careful about what we wish for. The first story that Marvin gave to us was just too crazy to share and we had to call him this morning while he was at MIA airport to request another in place of the first.] 
Marvin: This one time during one of Machel's performances with a full band, crew, stage and the works, we (Machel and I) happened to be wearing the same style of pants and hats. During the gig, one of the patrons in the crowd pointed out to Machel that there was a massive rip in his pants (think from crotch to knee). Machel then came off stage and immediately asked me to source materials to repair the pants — like needle and thread or pins. I looked everywhere but people don't bring things like this to a concert apparently! So here we are backstage and Machel's solution for this wardrobe malfunction was for me to give him mine. I'm not going to lie, I was reluctant because all I had on below them were my underwear, but the show must go on. He is the boss and frankly people don't come to concerts to see Marvin. So we made the trade and in exchange for my brand new jeans, I received Machel's soaking wet, ripped-up pair. I remember Machel even gave me a shoutout on stage for helping fix the wardrobe issue but needless to say, for the rest of the show I stayed backstage with a towel wrapped around my waist!
It was only after the show was completely done and everyone had left, I was able to walk to the car and drive home in my towel. Lesson learned. Always keep an extra pair of everything in the car.
Lesson learned. Always keep an extra pair of everything in the car.
Radial: Hahaha. I'm sure you could sell those pants on eBay now. So what exactly is a typical day like? What's it like working with Machel?
Marvin: Try covering 29 hours of work in 24 hours. I usually have to get up way before Machel, have his clothing ready, have our destination mapped out, have breakfast ready, have whatever daily communication prepared for him and THEN wake him up. It's like having a naughty child getting out of bed for school. I balance two phones; not because I can, but because I relate and communicate with so many people daily just to have our day run smoothly and free of incidents. If we go out publicly, I have to arrange security, parking, entry and exit plans. One would think that "it's Machel Montano" and he would have loads of cash, NO… I am the one with the cash, as he never carries around money. Then when the day is over, I go over tomorrow's plan and make sure there is nothing unresolved before I head home. It is a never ending job, no time schedule, no stationary office space, no same day.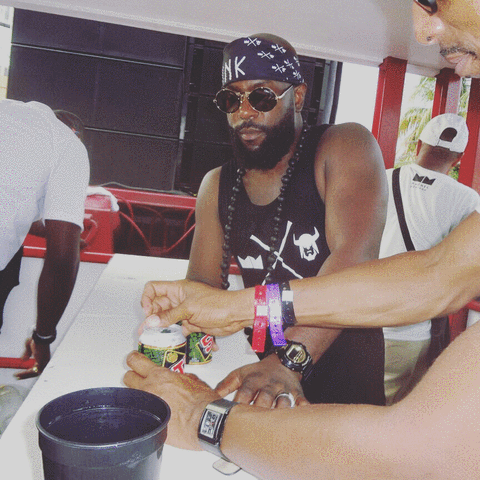 Radial: Be honest Marvin, have you ever been star-struck? Which artist would you say is even cooler than someone would think?
Marvin: I have never been the type of guy to go wacko over someone else. I'm kinda engulfed in the stardom life already and seeing another superstar is just plain normal for me. I guess it is because I relate their lives to the one I manage. I just imagine their personality and don't even bother to rush them. But, if you want to know who is the person I'd love to be around (again) then I would count my blessings and hope Rihanna considers me this time around.
Honestly, the artist who everyone sees differently is Machel. He has been subjected to all sorts of made up personalities that when you meet him, it's a totally different person. Machel would sit down and play on the PlayStation with you for the entire night or he would watch you cook in the kitchen like a student. Hats off, people generally have this stigma about him and when you're allowed in his world, you see a person who you never saw.
But, if you want to know who is the person I'd love to be around (again) then I would count my blessings and hope Rihanna considers me this time around.
Radial: You heard it here first. Machel Montano prefers PlayStation over Xbox (j/k). Oh and Ri Ri, if you are reading this, a Machel X Rihanna soca track would be incredible. Just call Marvin and he would take care of the rest.
On a separate note, we heard through the grapevine that you were a good cook. Can you tell us a little bit about that? Do you have any plans to take your culinary skills further?
Marvin:  Yes, I went to culinary school, I love cooking, It's a passion. I love seeing people eat healthy and enjoying what they eat. I have looked at the general public and noticed that most people do not have healthy eating habits. So, I did some research and made up some meals without many of the traditional ingredients that we are used to. On Saturdays, when I am not in the Monk territory, I do soups– healthy, natural and tasty soups. The response has been overwhelming and now I am faced with doing more than I ever anticipated.
I have some plans in place for one of the best eating spots ever– where the food is prepared in a much healthier way, as I am more organized in the kitchen than any other place. Hopefully, by the end of the year, you can come sit and enjoy a meal that raises those taste buds and satisfies the heart.
As for furthering my skills, my aim is to create a different but exciting way of enjoying the foods that we eat.
Radial: Count us in! Ok last question. As a parent that travels a lot, how do you cope? And what advice would you give to parents that are constantly on the go but still love to keep connected with their kid?
Marvin: Firstly, never hide anything from your children, never put them to believe other things. It is hard at times being away from my daughter. Although I missed a few PTA meetings and sports meet, I compensate that with respect for what she does and giving her the most undivided attention. As a father to a beautiful daughter, life can only serve you injustice (jokingly) as you see a complete repeat of your past life. There has always been a space shared between fathers and daughters — that's an untouchable space where nothing can interfere with it. I try my best to provide for her and protect her from the pack of wolves. At the same time, I encourage her to embrace her own life experiences so she can have that choice and learning curve. As she grows from being a daddy's girl to an amazing young lady, I look at her development and I am happy because I see the lessons emanating from her.
We have a very complex relationship, I travel and she's angry at the world. When I return, she is the happiest of all. The best advice that I can give any parent is: don't overexpose kids to social media, don't flaunt them on your page (that's for adults), don't punish severely and don't over-reward. My daughter is 12, going on 13 and she's the replicate of me. She wants to become a chef when she grows up and she doesn't want to work for a superstar, she wants to become one.
Radial: Your daughter seems to have the right mindset! And we hope that we can one day try some of the soup you mentioned. It is always a pleasure catching up with you and thanks for sharing your insights with the world. All the best brother!
You can follow Marvin on Instagram at www.instagram.com/marvinfermin